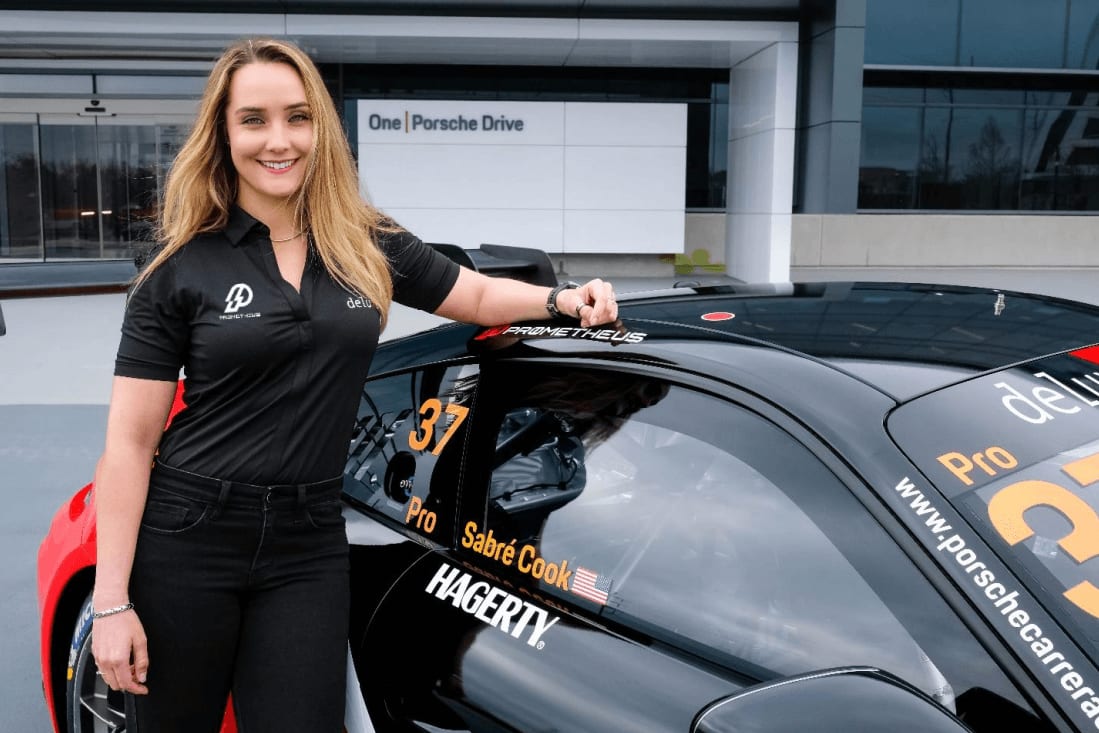 Santa Cruz, CA, March 13, 2023 – Prometheus Fuels, the most innovative high-performance, carbon neutral e-fuel provider, will join professional race car driver, Sabré Cook, as an Associate Partner in the 2023 Porsche Deluxe Carrera Cup North America series. Sabré will proudly represent Prometheus on her #37 Porsche 911 GT3 (992) Cup Car all season.
Prometheus and Sabré began working together at The Great Race in the summer of 2022 when Prometheus was a sponsor of the all-female RPM Foundation X-Cup Team. With Sabré's engineering background she was instantly intrigued with Prometheus's unique technology and mission.
Prometheus uses solar and wind power to turn CO2 from the air into high-performance, low-cost, carbon neutral gasoline, diesel, and jet fuel. In 2022, the World Economic Forum invited Prometheus to join its Global Innovators, a group of the world's most promising technology and business startups. At the close of its most recent funding round, Prometheus became the world's first electrofuels unicorn, with a valuation of $1.5 billion. BMW and Maersk are among the company's investors, while American Airlines has committed to purchasing its carbon neutral jet fuel. Prometheus was named to Y Combinator's Top Companies list in 2022 and 2023.
With such accolades already accrued, it's no surprise that Prometheus's ambition has propelled it into this stellar partnership in the world of motorsports with Sabré Cook.
"We're thrilled to partner with Sabré in her historic racing year and proud to name her as our first brand ambassador," said Amanda Martinez, Prometheus's Chief Creative Officer. To say that Sabré inspires us is an understatement. Her talent and tenacity as an athlete, reputation as a trailblazer, and background as a mechanical engineer, makes Sabré the ideal representative to spread the word about our novel tech and fuels to the motorsports world and beyond. We could not imagine a more perfect spokesperson for our brand."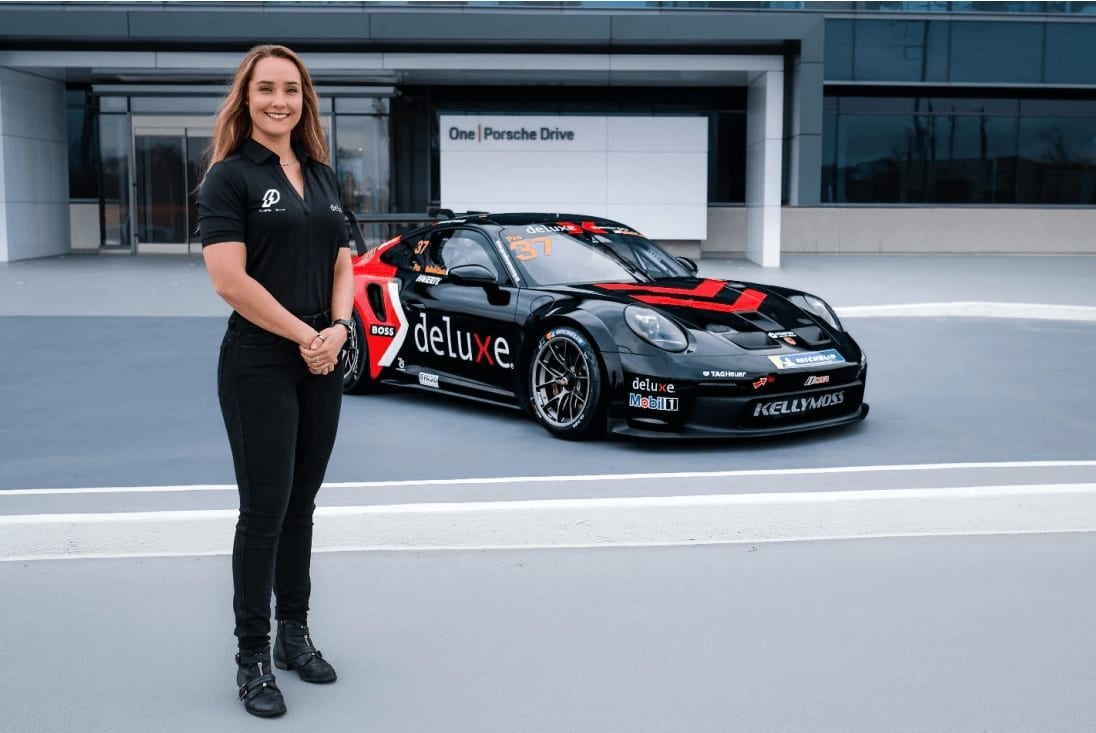 Sabré Cook is one of the top female racing drivers in the world and is making history again as the first female to ever compete in Porsche Carrera Cup North America. She is a trailblazer for women in motorsports, pushing the limits to achieve great success in karts, formula cars, and sports cars. Sabré is also a first-generation college graduate, earning her B.S. in Mechanical Engineering from the top public engineering university in the U.S., the Colorado School of Mines. She has worked as an engineer in the automotive and motorsports space in many capacities, including F1 and INDYCAR.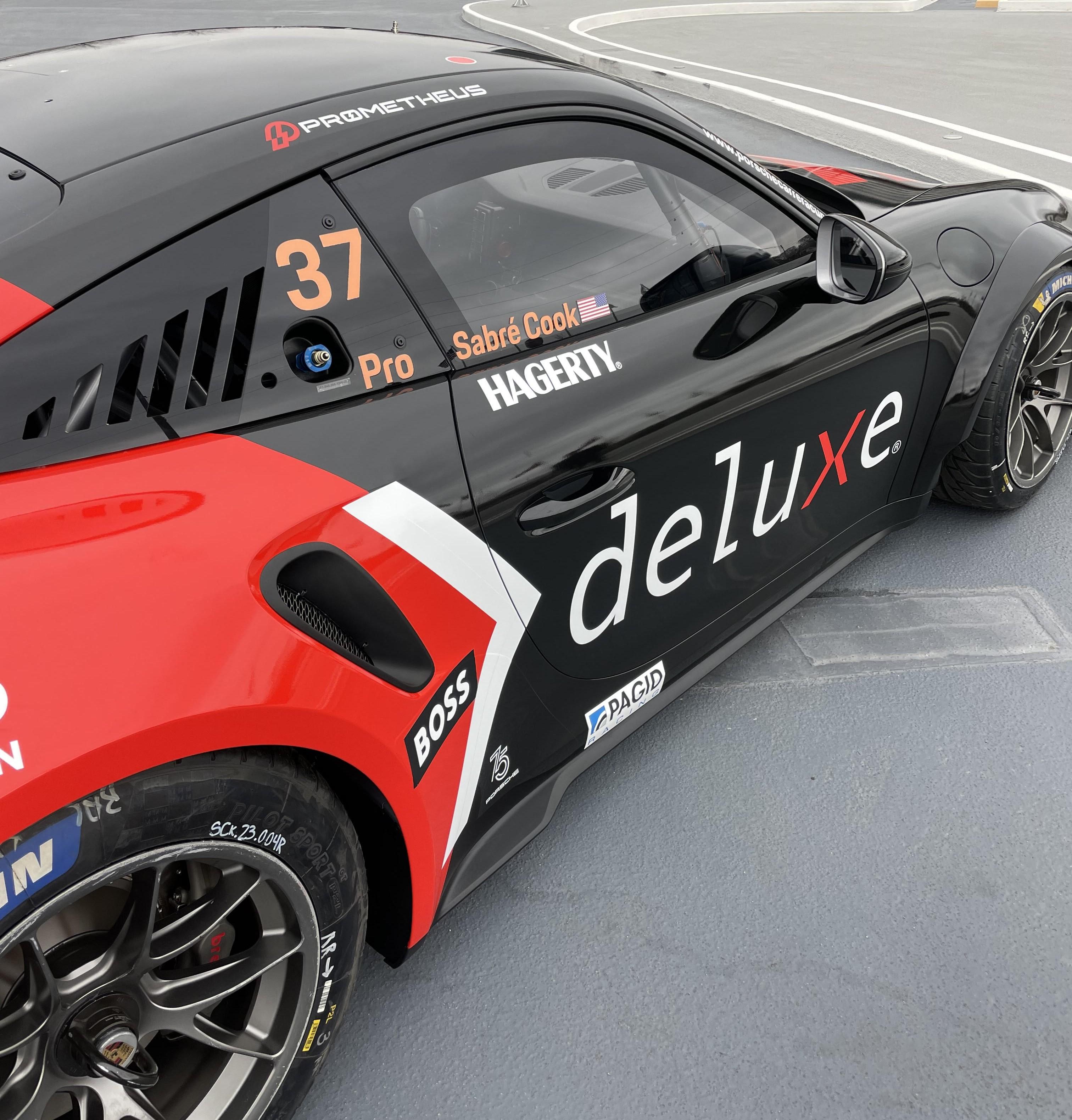 "As an engineer I was enamored with the innovative technology Prometheus has created. Then as a racing driver I am hopeful of the performance edge their fuel could potentially offer while also being an answer to keep racing and combustion engine powered cars sustainable for those of us that love them! I'm proud to be partnerning with Prometheus this season and I can't wait to see the impact we can have together on the automotive space." Cook said.
The 2023 Porsche Deluxe Carrera Cup North America Series is one of the preeminent one-make racing series in the world where drivers go head to head in the exact same car. Drivers compete at the most iconic motorsport venues across North America paired alongside IMSA, NASCAR Xfinity, INDYCAR, and F1 race weekends. More information about the series can be found here: porschecarreracup.us.
2023 Porsche Carrera North America Cup Series schedule:

· March 15-16 at Sebring International Raceway (Sebring, Florida)
· April 14-16 at Long Beach Grand Prix (Long Beach, California)
· May 5-7 at Miami Grand Prix, Florida (Miami, Florida)
· June 22-25 at Watkins Glen International (Watkins Glen, New York)
· July 28-30 at Road America (Elk Hart Lake, Wisconsin)
· September 15-17 at Indianapolis Motor Speedway (Indianapolis, Indiana)
· September 28-October 1 at Weathertech Raceway Laguna Seca (Monterrey, California)
· October 20-22 at Circuit of the Americas (Austin Texas)

About Prometheus Fuels
Prometheus Fuels is a venture-backed energy company that makes high-performance, carbon neutral e-fuels that can be used in any internal combustion engine vehicle. It makes the only e-fuels that can compete with fossil fuels on price. Prometheus makes its fuel using a novel production process that works by doing what every internal combustion engine does when it burns fuel, but in the opposite direction – reverse combustion. First, it captures CO2 and water, (a.k.a. exhaust), from the air. It then restores the energy spent during combustion, using solar and wind power to recharge and recombine the molecules into hydrocarbons. In a final customization step, the hydrocarbons are turned into the same gasoline, diesel, or jet fuel that filled the vehicle's tank in the first place. Learn more at prometheusfuels.com.
About Sabré Cook
Sabré Cook is a professional racing driver and mechanical engineer. Hailing from Grand Junction, Colorado, Cook began driving at the young age of eight, and as her passion grew she began racing competitively at age ten. She recently won the Kellymoss Scholarship Shootout and will be racing for the team full time in the Porsche Carrera Cup North America 2023 Season. Sabré is also a first generation college graduate. She has a B.S. in Mechanical Engineering from the top U.S. public engineering university, the Colorado School of Mines. She won the U.S. Global Final for the Infiniti Engineering Academy which then gave her the opportunity to serve as Vehicle Test Engineer for Infiniti Global and Suspension Composite Design Engineer for the Renault Formula One Team, all while still racing. Read more about Cook's full bio on her About Page.
Prometheus Fuels Media Contact:
Amanda Martinez
amanda@prometheusfuels.com
Sabré Cook Racing Media Contact:
PowerDrive Motorsport Futures, Tami Powers
+1 310-490-2747 tami@powerdrivemf.com